CLEARLIGHT® SANCTUARY C

3 PERSON FULL SPECTRUM INFRARED CORNER SAUNA






SANCTUARY FULL SPECTRUM SAUNAS
With contemporary design and groundbreaking innovation, the Clearlight® Sanctuary® Saunas are unlike any other. They are the only true Full Spectrum infrared saunas available offering advanced near, mid and far infrared technologies. Their robust True Wave™ Full Spectrum heating system provides all wavelengths 100% of the time to optimize your sauna session. The state of the art digital sauna control works in concert with Clearlight® smartphone app to gives you the ability to control your sauna remotely.
25X THE POWER
Clearlight® True Wave™ Full Spectrum heater system delivers over 25 times the power of the nearest leading competitor. Clearlight® offers a full 500 watts per heater versus their maximum 40 watt near infrared emitter. You'll see the (2) Full Spectrum heaters in the front glass wall of each Clearlight® Sanctuary Sauna.
FEATURES
iOS/Android Smartphone Control

Advanced Chromotherapy

Built-in charging and audio station

Distinctive door handle/smartphone cradle for easy media viewing

Reservation mode so you can set your sauna to turn on up to 36 hours in the future

True WaveTM carbon/ceramic low-EMF far infrared heating technology on the back wall, side walls, under the bench, next to your calves and in the floor and our low EMF full spectrum front heaters

ELF shielding with the lowest ELF levels in the industry

Furniture grade cabinetry with 8mm thick glass front and ceiling

Italian-designed sauna with a glass roof for style and comfort

Comprehensive Limited Lifetime Warranty

Easy Installation (normally about 90 minutes)

Much more
SANCTUARY C INFRARED SAUNA PHOTO GALLERY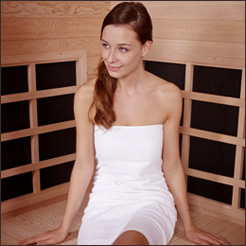 TRUE WAVETM CARBON-CERAMIC FAR INFRARED HEATERS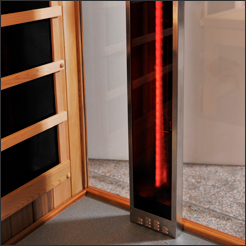 FULL SPECTRUM HEATING TECHNOLOGY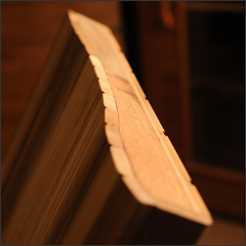 DEEP REVERSIBLE ERGONOMIC TO FLAT BENCH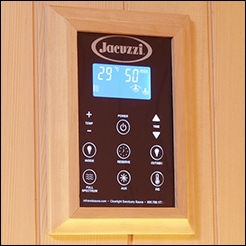 DIGITAL CONTROLS WITH RESERVATION MODE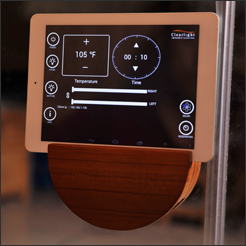 TABLET / SMARTPHONE CONTROL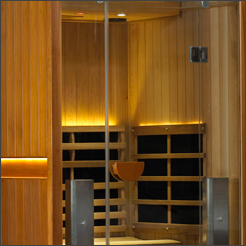 ELEGANT MODERN ITALIAN INSPIRED DESIGN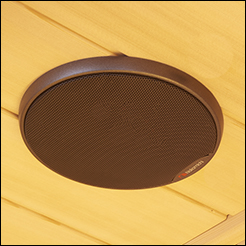 BLUETOOTH, AUX AND MP3 AUDIO INPUTS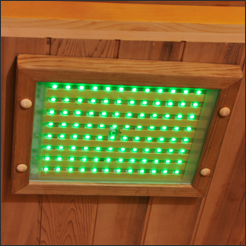 MEDICAL GRADE CHROMOTHERAPY LIGHTING
WOOD TYPE
The Sanctuary C is available in either Mahogany or Basswood.  Clearlight® uses an 8mm thick tempered glass and double wall tongue and groove construction.
HEATERS
True WaveTM far infrared heaters on back wall, side walls, under the bench, next to your calves and in the floor.
True WaveTM full spectrum heaters located on the front wall.
SANCTUARY C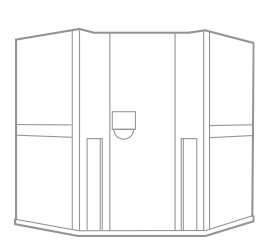 INTERIOR DIMENSIONS
Width: 68″
Depth: 68″
Height: 71″
Benches: two 66″ x 22″ benches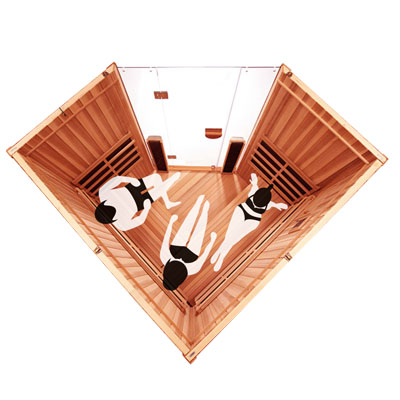 EXTERIOR DIMENSIONS
Back walls: 71″
Side walls: 38″
Front wall: 47″
Height: 77″
Weight: 640 lbs
When building the Sanctuary C into an enclosed space, we recommend leaving 2″ around the sauna.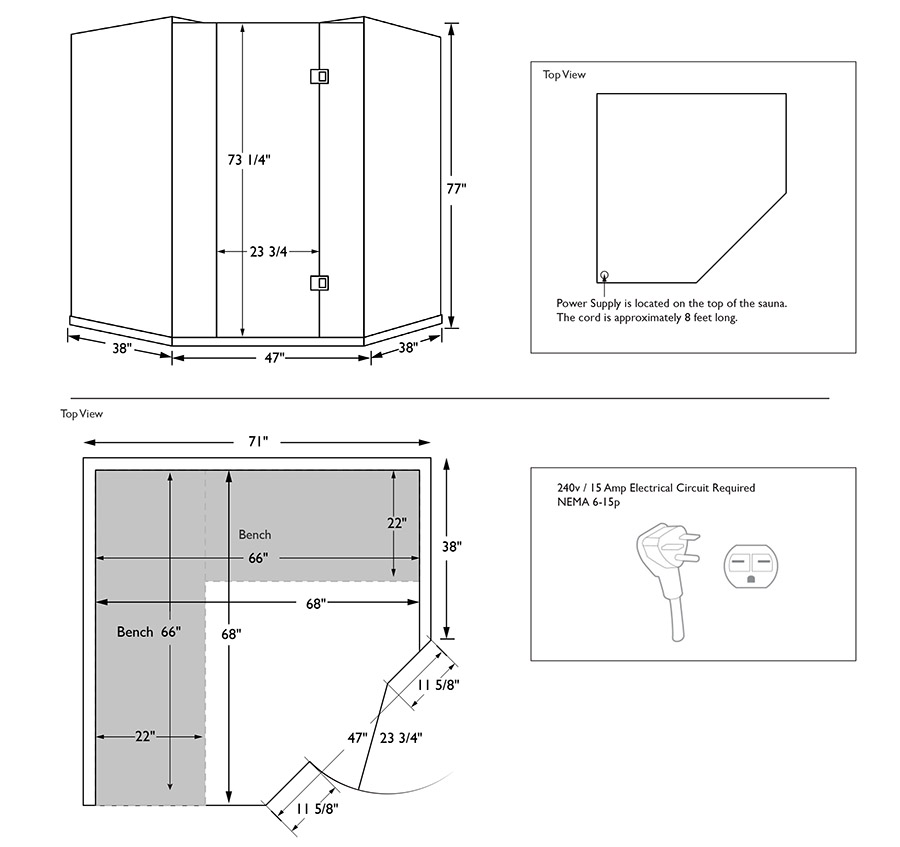 ELECTRICAL
240 volts
3,220 watts
13.5 amps
Plugs into a 240v outlet.
Plug:  NEMA 6-15p
THE CLEARLIGHT® SAUNA DIFFERENCE
What differentiates Clearlight® infrared saunas from all others? Their superior craftsmanship and True Wave™ heating technology that gives you full spectrum infrared throughout your entire sauna session! Clearlight® Sanctuary® saunas are made with the highest quality Eco-certified Mahogany or Basswood. This unbeatable combination makes the Clearlight® Sanctuary® sauna the sauna of choice. Your sauna includes beautiful glass front design with glass skylight roof, recessed accent lights for mood and reading, digital keypad, Medical Grade Chromotherapy, Bluetooth and AUX audio, and iOS and Android Smartphone control.
Included is a doctor-designed built-in ergonomic backrest and reversible ergonomic-to-flat bench. The built-in ergonomic backrest provides ultimate comfort. The bench is reversible so you can choose either the ergonomic or flat side.
Control your sauna with the Clearlight® Connect App on your iOS or Android Smartphone.  The Patent Pending door handle design is also a smartphone holder so you can enjoy your choice of entertainment while relaxing in your sauna.  You can also control your sauna with the built-in digital keypad and with "Reservation Mode" you can pre-set the sauna to turn on up to 36 hours in advance.
All Sanctuary Saunas use Clearlight® Low EMF True Wave™ Full Spectrum heaters in the front of the sauna and Low EMF True Wave™ far infrared heaters on the back wall, side wall, front wall, under the bench, next to your calves and in the floor.
Clearlight® also positions their heaters so the infrared heat is concentrated on your body. Since infrared heat travels in a straight line, any heater that goes up over your head is only heating the air. By using their high output heaters, they can concentrate the heat exclusively on your body so you get the most benefit. You are completely surrounded by high quality infrared heat in the Sanctuary C.
For constant infrared heat simply set the digital controller to the highest setting. You'll receive 100% constant far-infrared heat with absolutely no heater shut-off throughout your entire 30 to 45 minute sauna session. The combination of far infrared and full spectrum heaters provide safe, deep penetrating infrared heat.
ADVANCED MEDICAL GRADE CHROMOTHERAPY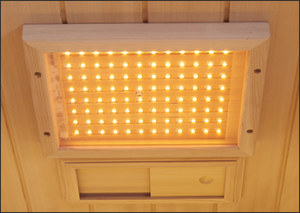 The Sanctuary C also includes Clearlight® Medical Grade Chromotherapy lighting. With 96 LED lights – the intensity of this chromotherapy unit is unmatched.  You can select an individual color or press "auto" mode and the unit will cycle through the all of the colors.  With the handheld remote control you can easily change not only the color light, but the vibrancy and the intensity of the light, as well.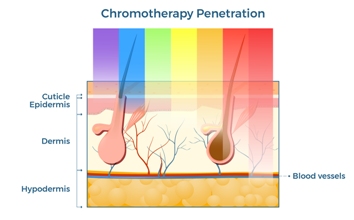 NEXT LEVEL SAUNA ACCESSORIES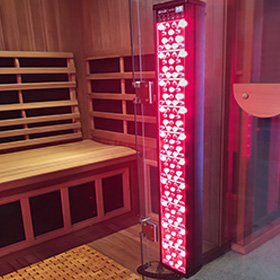 Red Light Therapy
This powerful tower emits concentrated amounts of red light (photobiomodulation) and near infrared. It measures 38" x 5" x 3.5" deep and attaches to the sauna door. Click for details.. Optional stand is available.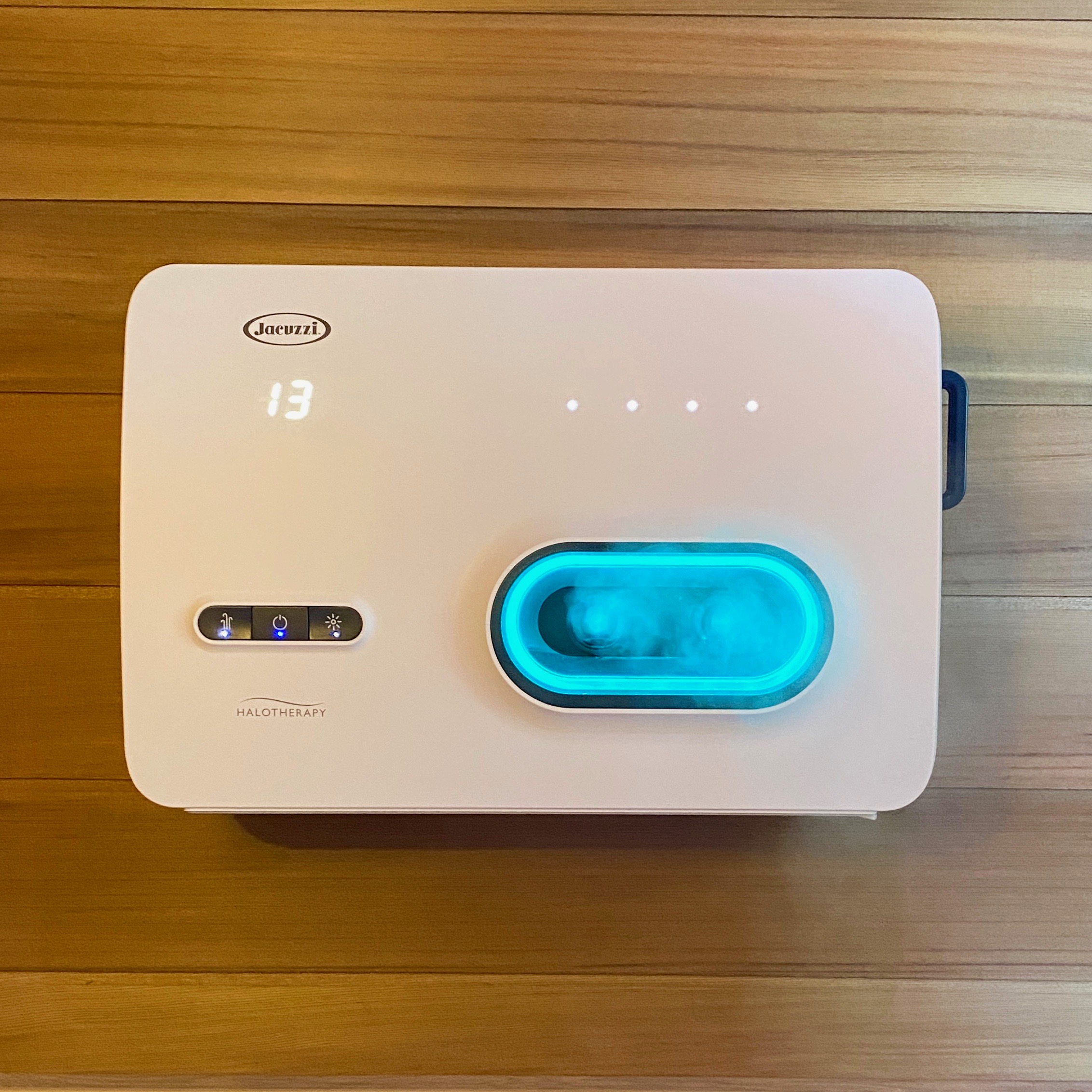 HaloOne Salt Therapy System
The HaloOne turns any sauna into a healing salt cave. Emitting a fine salt mist, it's excellent for many respiratory and sinus conditions. Comes with 30 liquid salt pods and more can be purchased. Click for details.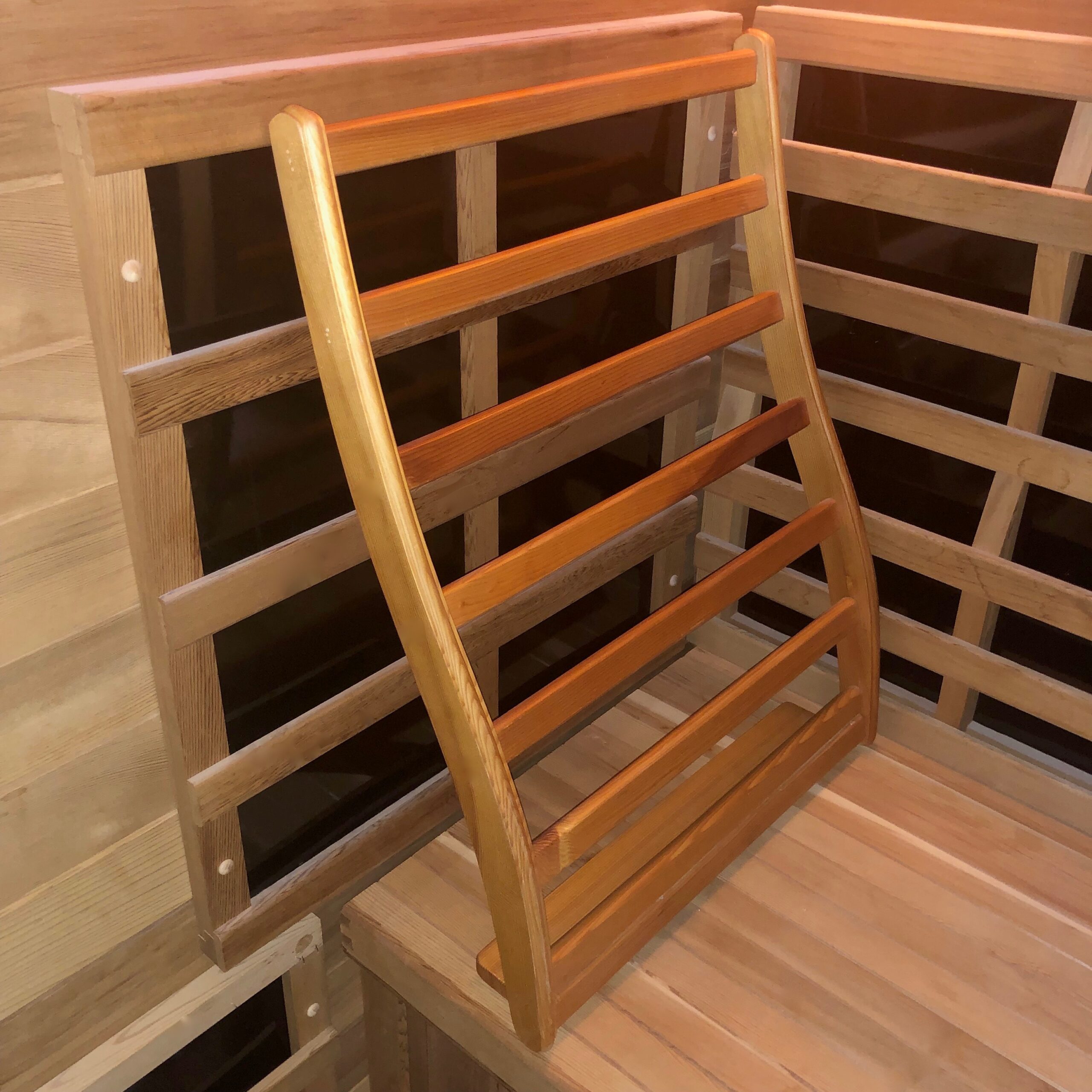 Backrest
This adjustable backrest can be used upright (as shown) or at an angle if you want to recline in the sauna. Easy to move to adjust your position, the backrest allows you to fully relax while being fully supported.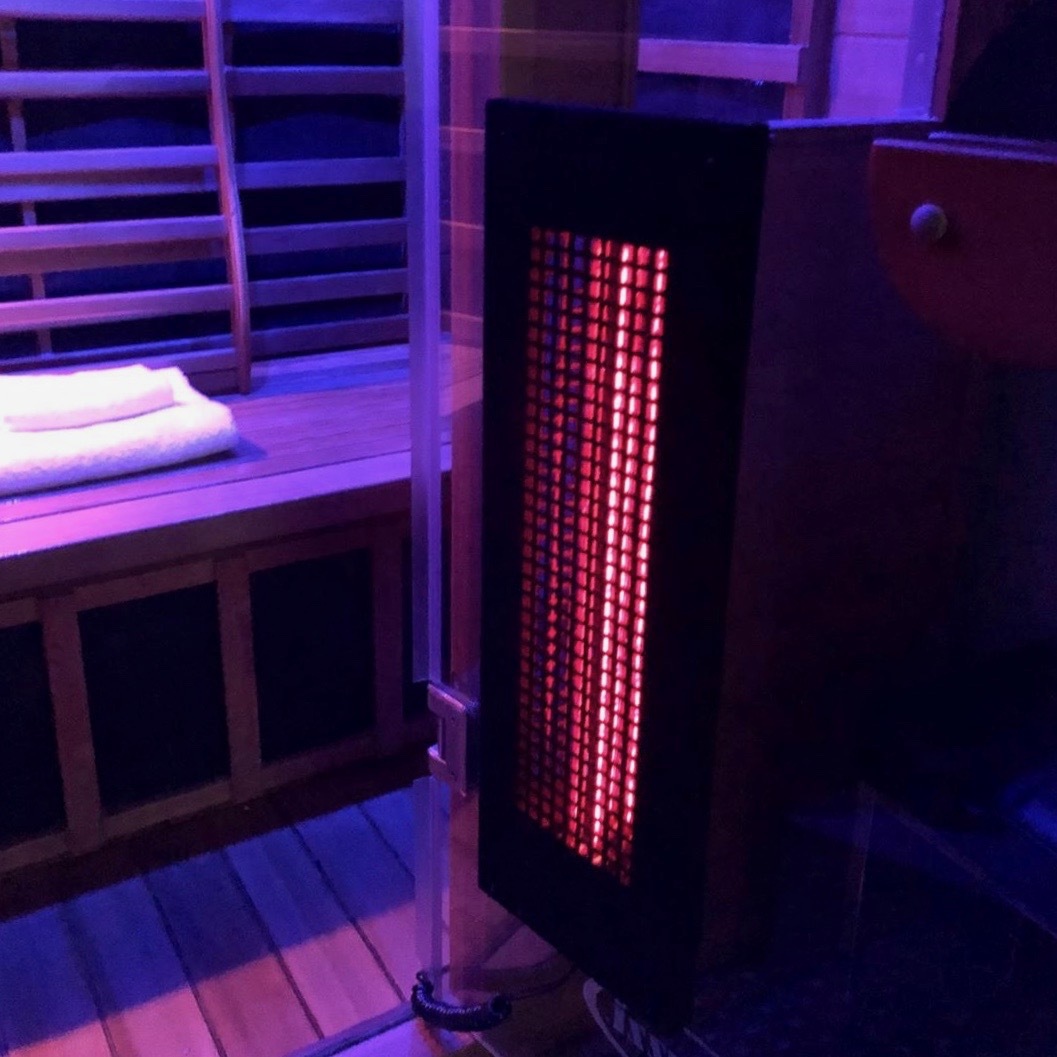 Full Spectrum Door Heater
Craving more heat? Add an additional 300 watt Full Spectrum heater to your sauna. The heater measures 24"x 7" and mounts to the interior of your sauna door, plugging into a receptacle on the sauna floor.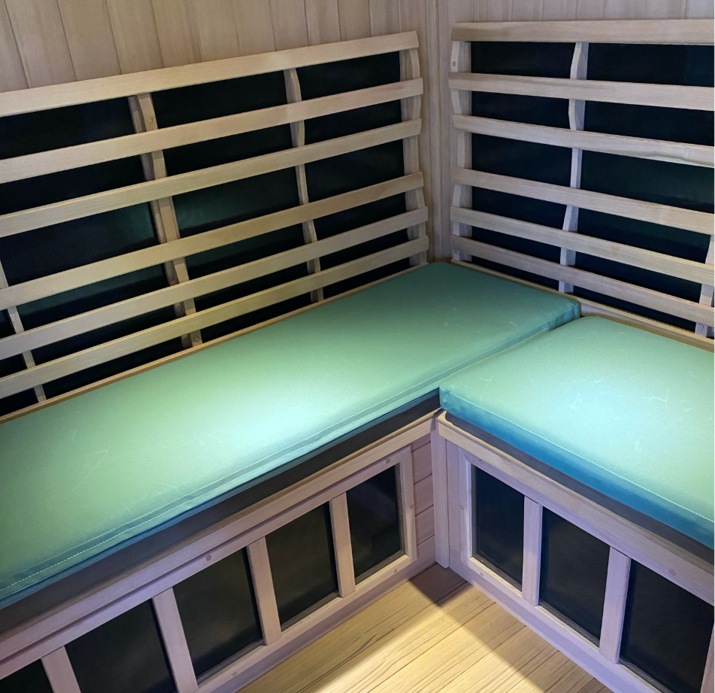 Bench Cushion
Add an extra layer of comfort and bench protection to your sauna with a made-to-order, custom fit bench cushion. This waterproof and mold-resistant cushion is 3" thick and comes in your choice of light tan or black.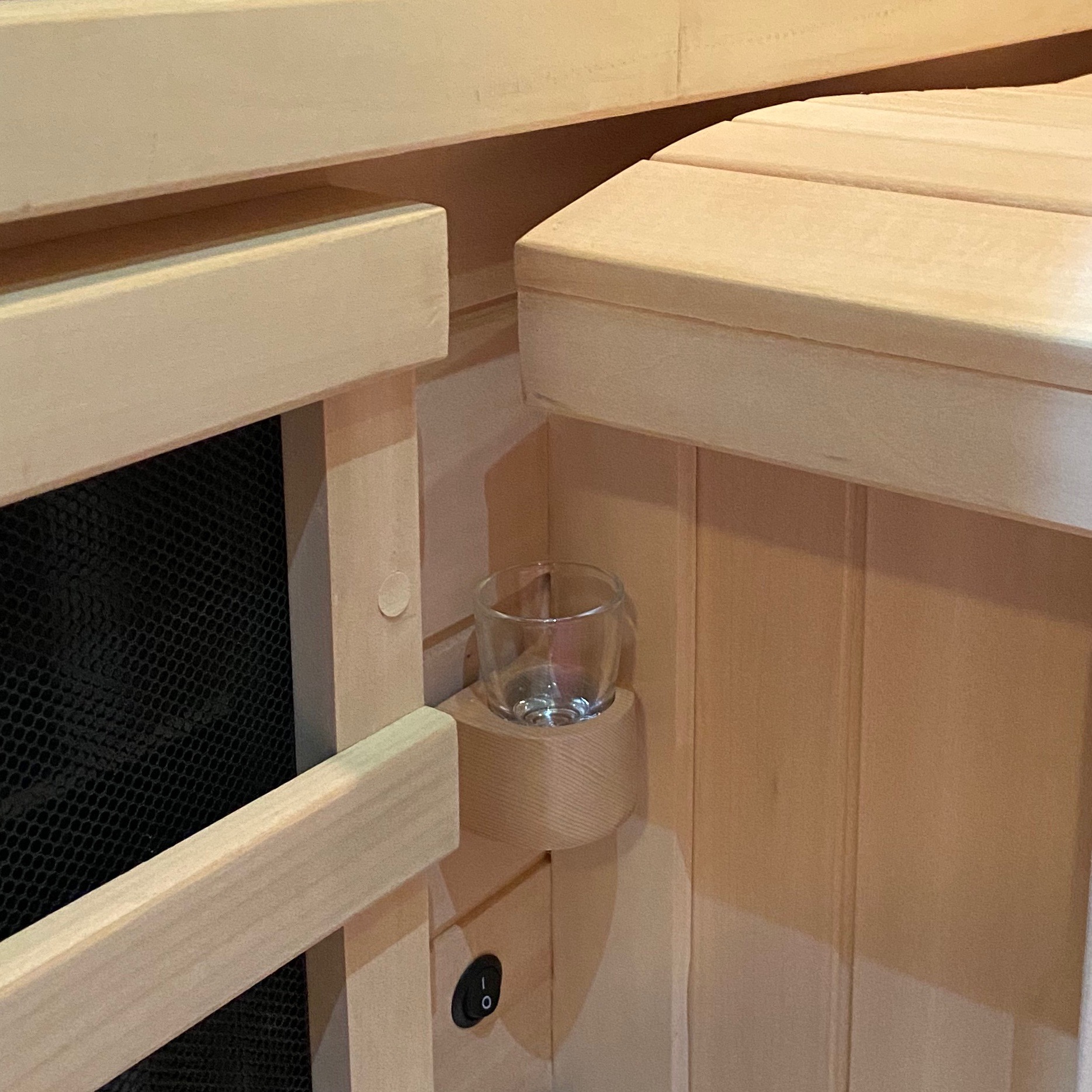 Aromatherapy
Turn your sauna into a healing spa with an infusion of your own essential oils. This diffuser plugs into a convenient receptacle (in most recent model Clearlight Saunas) and diffuses a light amount of essential oil into the air.