SANCTUARY OUTDOOR-5
4 PERSON FULL SPECTRUM INFRARED SAUNA





CLEARLIGHT® SANCTUARY™ FULL SPECTRUM INFRARED SAUNAS
With contemporary design and groundbreaking innovation, the Clearlight® Sanctuary® Saunas are unlike any other. They're the only true Full Spectrum infrared saunas available offering over 1000 watts of near, mid and far infrared technologies. Their robust True Wave™ Full Spectrum heating system provides all wavelengths 100% of the time to optimize your sauna session. The state-of-the-art digital sauna control works in concert with the Clearlight® smartphone app to give you the ability to control your sauna remotely.
25X THE POWER
The Clearlight® True Wave™ Full Spectrum heater system delivers over 25 times the power of the nearest leading competitor. Clearlight® offers a full 500 watts per heater versus their maximum 40 watt near infrared emitter. You'll see the (4) Full Spectrum heaters in the front glass wall of each Clearlight® Sanctuary Outdoor-5 Sauna.
FEATURES
(4) powerful Full Spectrum heaters emitting near, mid and far infrared

True Wave™ hybrid carbon-ceramic on the back wall, side walls, under the bench, next to your calves and in the floor

EMF and ELF shielding for the lowest exposure 

iOS and Android Smartphone Control for remote connectivity 

Advanced Chromotherapy

Built-in charging and audio station

Distinctive door handle/smartphone cradle for easy media viewing

Reservation mode 

"Furniture grade" cabinetry with 8mm thick glass door & double pane windows

5-year warranty on sauna cabin and Lifetime Warranty on components

Much more
SANCTUARY OUTDOOR 5 INFRARED SAUNA PHOTO GALLERY
WOOD TYPE
The Sanctuary Outdoor-5 uses Engineered Wood on the outside and  Canadian Mahogany on the inside. Clearlight® uses thick double pane glass throughout, and the double wall tongue and groove walls are insulated to keep the heat in.
HEATERS
Features (4) powerful Full Spectrum heaters in the front glass wall of each Sanctuary Outdoor-5 Sauna. True Wave™ far infrared heaters on the back wall, front wall, side walls, under the bench, next to your calves and in the floor.
INTERIOR DIMENSIONS
Width: 76.75″
Depth: 47″
Height: 71.5″
Weight: 1050 lbs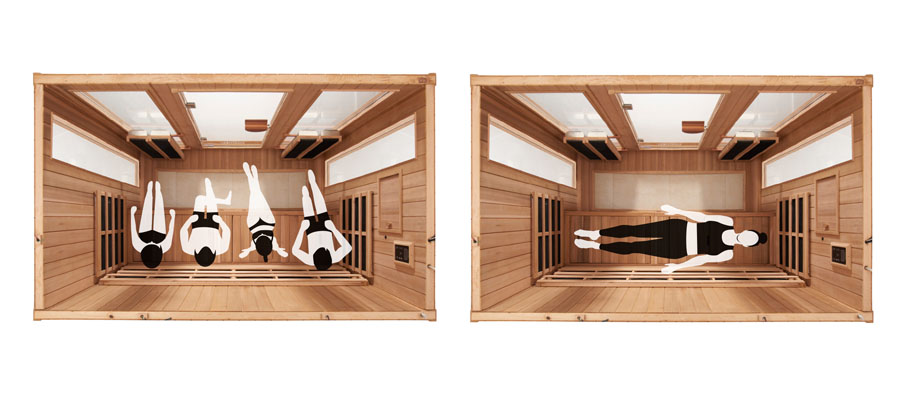 EXTEROR DIMENSIONS
Width: 82.25″ *
Depth: 52″ *
Height: 80″
* add 8.25″ for roof overhang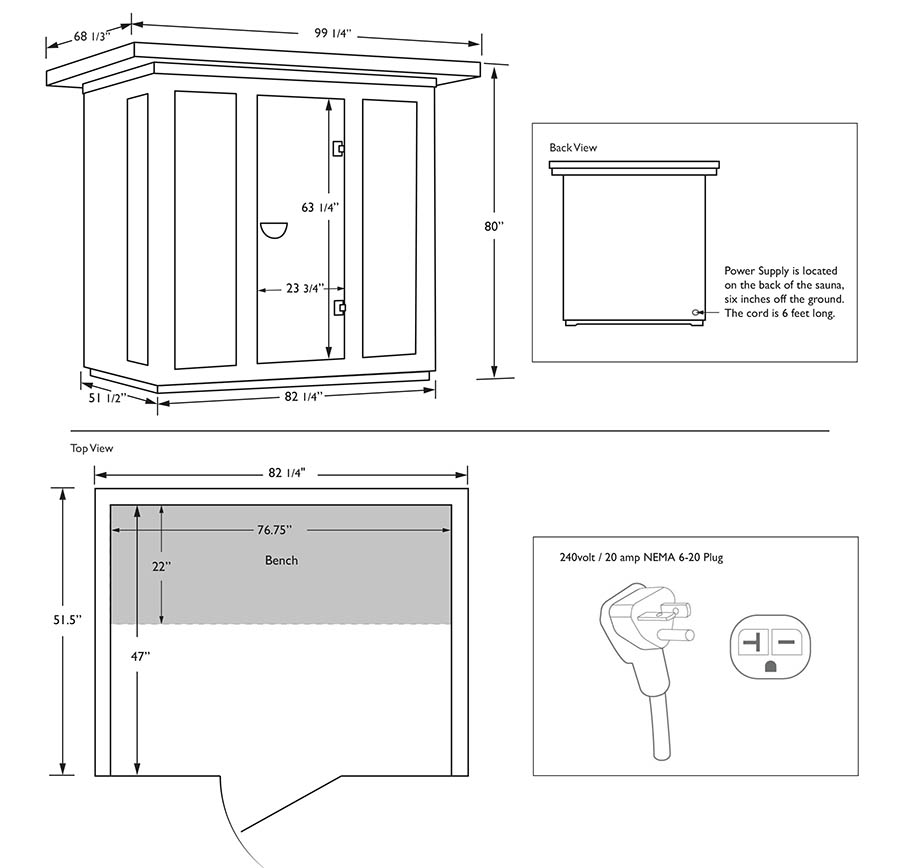 ELECTRICAL
240 volts
3,800 watts
16 amps
Plugs into a 240v outlet.

ADVANCED MEDICAL GRADE CHROMOTHERAPY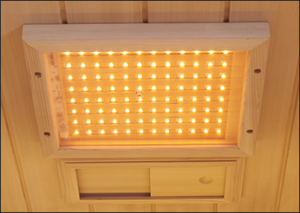 The Sanctuary Outdoor-5 also includes Clearlight® Medical Grade Chromotherapy lighting. With 96 LED lights – the intensity of this chromotherapy unit is unmatched.  You can select an individual color or press "auto" mode and the unit will cycle through the all of the colors.  With the handheld remote control you can easily change not only the color light, but the vibrancy and the intensity of the light, as well.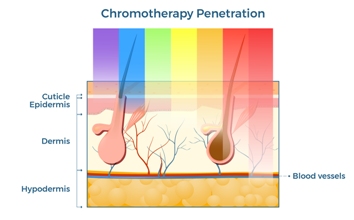 NEXT LEVEL SAUNA ACCESSORIES
Red Light Therapy
This powerful tower emits concentrated amounts of red light (photobiomodulation) and near infrared. It measures 38" x 5" x 3.5" deep and attaches to the sauna door. Click for details.. Optional stand is available.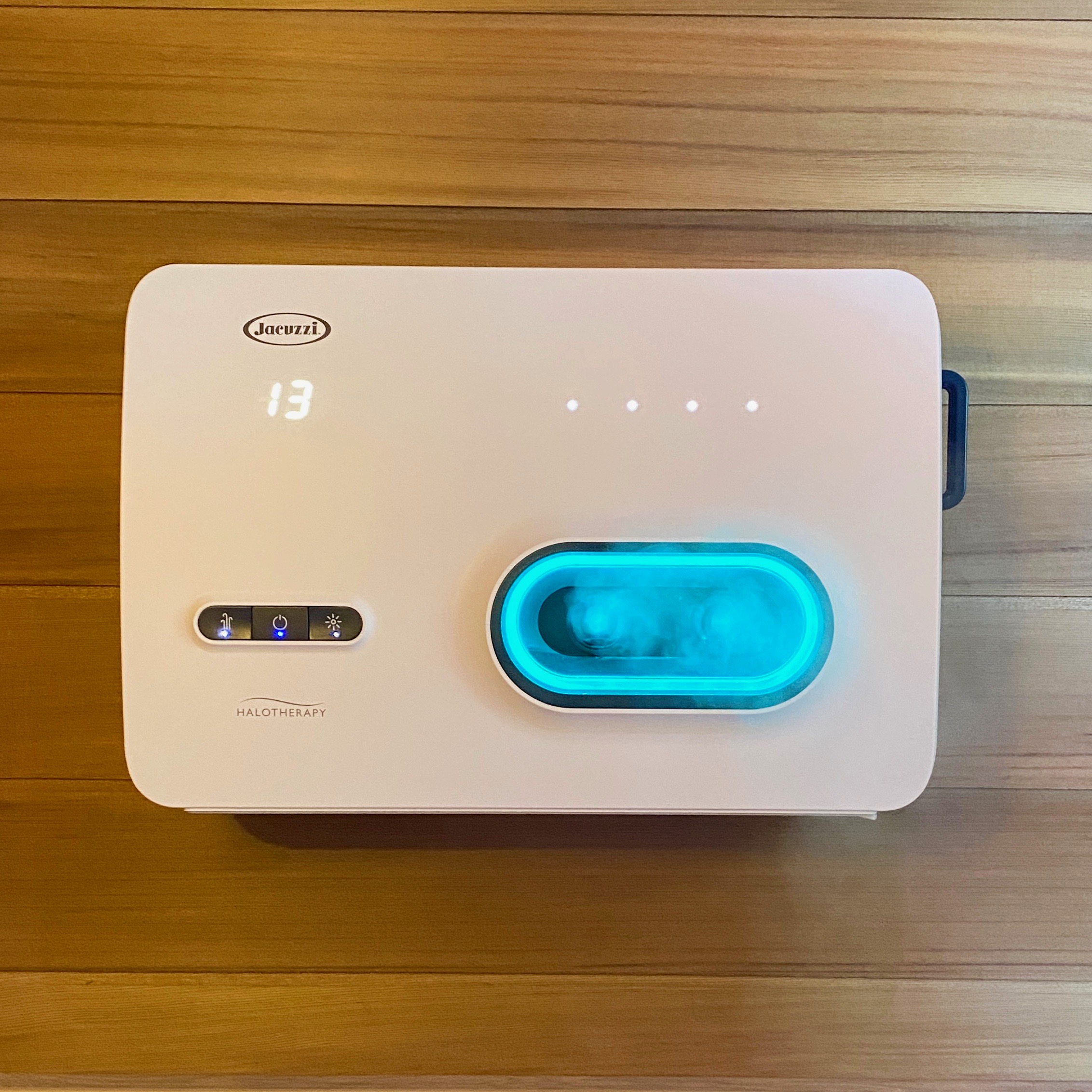 HaloOne Salt Therapy System
The HaloOne turns any sauna into a healing salt cave. Emitting a fine salt mist, it's excellent for many respiratory and sinus conditions. Comes with 30 liquid salt pods and more can be purchased. Click for details.
Backrest
This adjustable backrest can be used upright (as shown) or at an angle if you want to recline in the sauna. Easy to move to adjust your position, the backrest allows you to fully relax while being fully supported.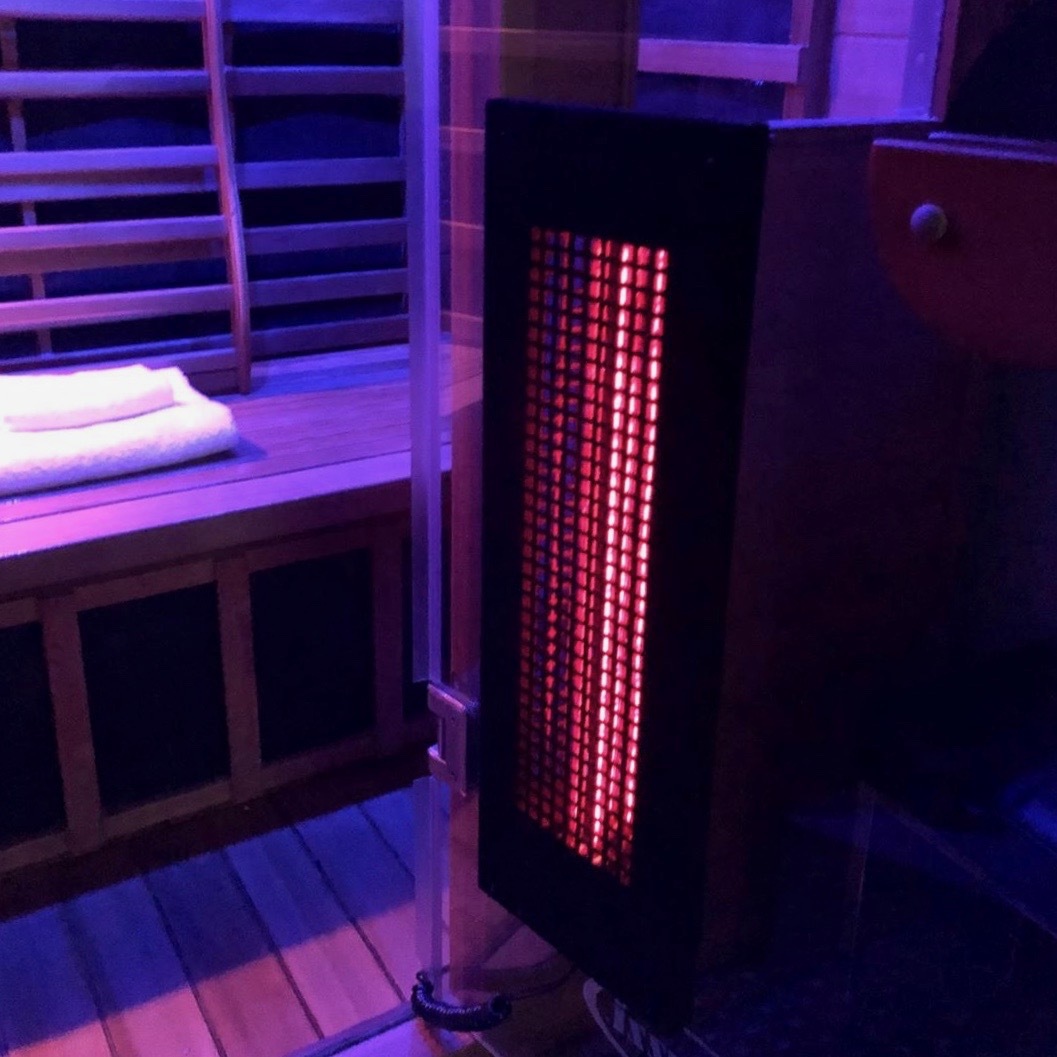 Full Spectrum Door Heater
Craving more heat? Add an additional 300 watt Full Spectrum heater to your sauna. The heater measures 24"x 7" and mounts to the interior of your sauna door, plugging into a receptacle on the sauna floor.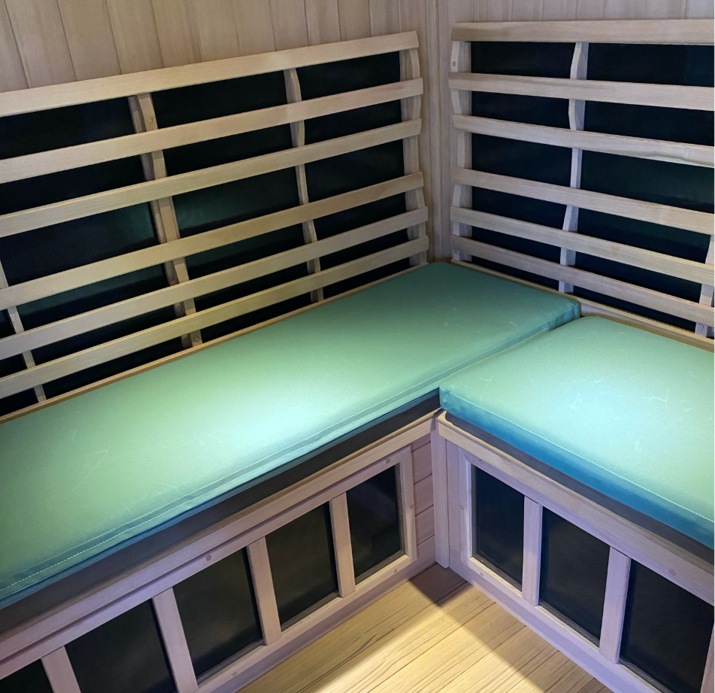 Bench Cushion
Add an extra layer of comfort and bench protection to your sauna with a made-to-order, custom fit bench cushion. This waterproof and mold-resistant cushion is 3" thick and comes in your choice of forest green or black.
Aromatherapy
Turn your sauna into a healing spa with an infusion of your own essential oils. This diffuser mounts on the interior side wall of the sauna and releases a gentle essential oil mist into the sauna cabin. The AromaOne is USB or battery-powered.