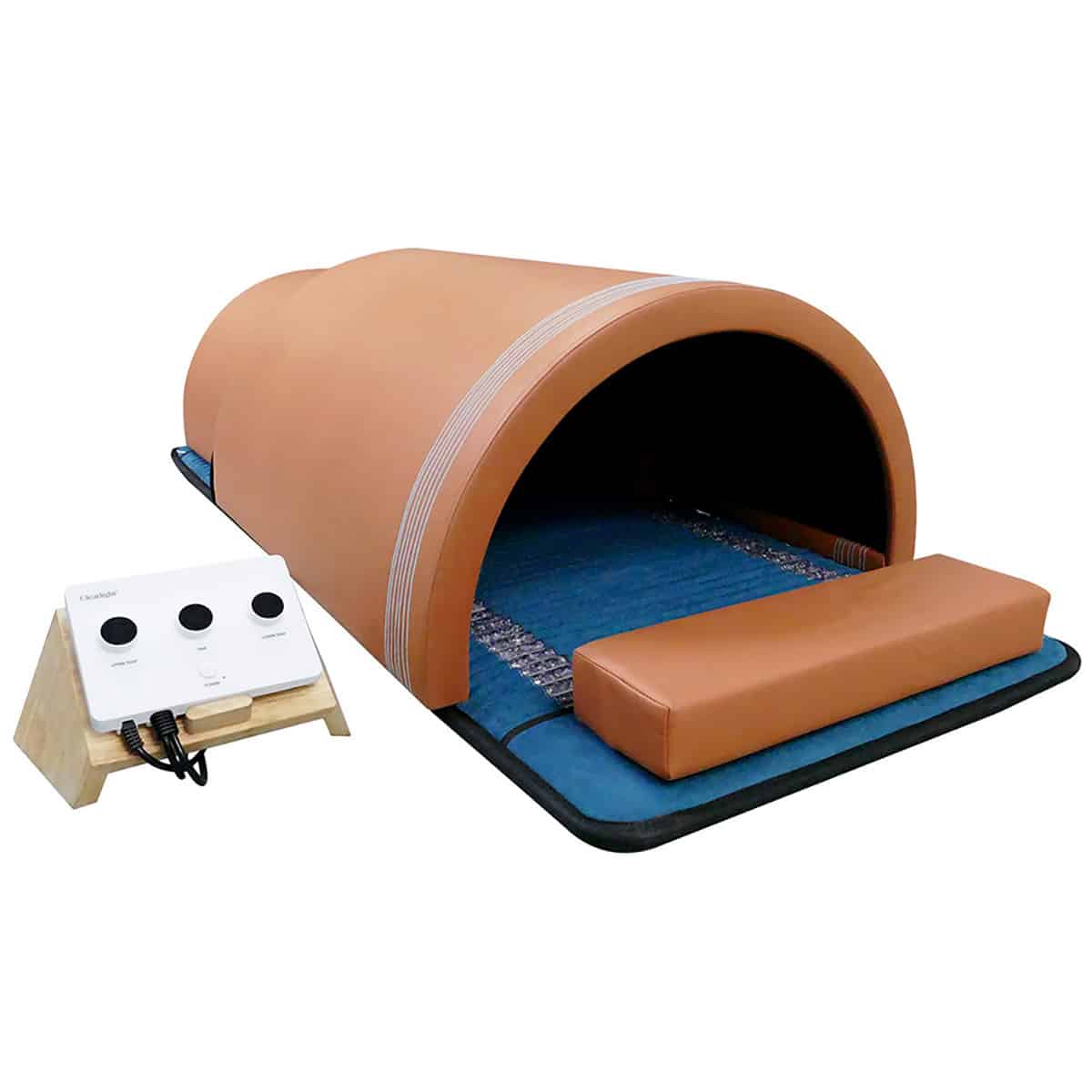 The Curve™ Far Infrared Sauna Dome
 
$2399 (reg. $2899) save $500
Free shipping to most places in the USA
Call for more information and to order:  800.317.5070
About
The Curve™ is a portable infrared sauna consisting of two lightweight domes that make it very easy to store in a corner or closet. The outer material of the dome is made with beautiful terracotta vinyl. The infrared heating pad is made with Memory Foam for maximum comfort and allows you to have infrared heat on both the back and front of your body. You are surrounded by healing infrared heat, all at an affordable price.
When you want the exceptional benefits of far infrared saunas and are limited on space, choose The Curve™ as part of your wellness routine.  The Curve™ can be set up anywhere and then stored away when not in use using the attached wheels to move it easily, making this portable infrared sauna perfect for home use, day spas, wellness facilities, gyms, and more.
For an exceptional far infrared experience, simply place the Curve Sauna Dome on top of the mat,  surrounding yourself with healing heat that detoxifies, relieves muscle pain, and supports weight loss.
SUPERIOR HEATER TECHNOLOGY
The Far Infrared heaters combine Carbon and Ceramic to produce healing infrared heat that is unmatched. The heaters are comprised of micro-thin carbon fibers (1/1000th the thickness of a human hair) combined with the patented ceramic compound.  We start with a high-quality organic carbon fiber sheet. Then we add a high output (high emissivity) ceramic compound, which produces long-wave infrared heat unequaled by carbon heaters alone.
The majority of EMF (Electro Magnetic Fields) is canceled out, making The Curve™ the safest and most effective sauna dome available.
Features
Weight loss & increased metabolism
Temporary muscle pain relief
Better sleep
Detoxification
Improved appearance of cellulite
Ease joint pain and stiffness
Stress and fatigue reduction
Improves skin
Available in terracotta-colored vinyl
Solid wood construction, luxurious finish, and sturdy wooden control box.
True Wave low EMF Far Infrared heating elements inside the dome.
Includes the Clearlight exclusive Infrared Amethyst PEMF mat to lay on while inside the dome, with a fitted washable cover included.
The electronic control system provides multiple heat level adjustments.
Both The Curve™ sauna dome and infrared amethyst mat include a seven-year warranty.
EXTEROR DIMENSIONS
Domes: Adjustable up to: 70.75″ x 34.5″ x 20.5″
Infrared Mat: 72.75″ x 29.5″
Weight of Curve Sauna Dome: 44 lbs.
Weight of Amethyst Infrared PEMF Mat: 40lbs.
ELECTRICAL
The Curve™ Sauna Dome plugs into a standard wall outlet:
Dome:  120 Volts / 960 Watts / 8 Amps
Infrared Mat: 120 Volts / 180 Watts / 1.5 Amps